Te Hā Noa
Te Hā Noa - Victoria Street
What's happening now
Planned

In Progress

Completed
Disruptions
Streetscape construction is ongoing, but pedestrian access is maintained throughout. For more information, check out our latest construction updates here.
Project Map
Share this page
About the project
Victoria Street is getting an exciting make-over. When we're finished, you'll see a high-quality and much more accessible street for people. You'll enjoy walking this greened, tree-lined street on much wider footpaths. You'll use the Victoria Street entrance to get to the new Te Waihorotiu Station. You'll be able to spend time relaxing on new seats, surrounded by native planting, looking at spectacular new Māori artworks and the streetscape designs that help make this a uniquely Tāmaki Makaurau street in the heart of midtown – a place that helps the city be even more attractive to people and high-value job-creating businesses. And for those who still need to drive, a vehicle lane in each direction will provide access and you'll be able to load and unload goods at one of four new loading zones.
The concept of Te Hā Noa on Victoria Street extends from Waikōkota/Victoria Park and Rangipuke/Albert Park. At this stage, detailed designs and funding have been confirmed only for the first portion, between Elliott Street and Kitchener Street. We started work on this portion in April 2023 and we're on track to finish in spring 2025.
Why are we doing this work?
Tāmaki Makaurau is growing, and Victoria Street is an important space in the ongoing development of our diverse city centre. We need it to be a great place for Aucklanders and visitors to get around and enjoy, including the thousands of people who will enter and exit Te Waihorotiu Station every day from Victoria Street.
Auckland's City Centre Masterplan 2020 identifies Te Hā Noa Victoria Street as a centrepiece of Transformational move 6: The Green Link. The Masterplan envisages the transformation of Victoria Street from a multi-lane urban arterial to an urban living room or 'breakout space' for those living, visiting and working in the area. The design incorporates more trees, seating and space to walk and cycle, providing access to greenery through the city centre.
The City Rail Link will change our city for the better, making the city an even more attractive place to live and work, connecting more people to more choices for employment, education, recreation, social and cultural opportunities. Alongside the many thousands of commuters, shoppers, students and residents, others will get off a train or bus and use Victoria Street as part of their journey to visit the Aotea Centre, Auckland Town Hall, Auckland Art Gallery Toi o Tamaki, Civic Theatre, Sky Tower and many other institutions and landmarks in the city centre.
We're doing this work, and other important work in midtown, to improve the experience of our city centre for everyone, making it safer, more accessible and easier to use public transport.
When this project is complete the benefits will include:
A more spacious, attractive on-street experience for people by providing wider footpaths, more shade, public art and seating, with Māori designs and cultural and environmental values woven throughout the streetscape

Native planting and new street furniture will give city centre residents and visitors beautiful spaces to relax and soak up their surroundings

A safer option for people on bikes with cycleways separated from vehicles and pedestrians
What's involved
We recognise that the work to regenerate midtown can't be done without some disruption, and we're working to reduce the impact on you as much as we can. We're coordinating with other council group projects in the midtown area as well as utilities companies to futureproof the city for further growth in the years to come. This get-it-right-first-time coordination makes it more complex now but should prevent significant disruption in the future. For more information on construction and how you can get support if you're impacted, visit our midtown neighbourhood page.
How the work will be done  
Expanding on the work already underway for the City Rail Link on Victoria Street between Federal Street and Elliott Street, work on the section between Elliott and Kitchener streets began in April 2023.

We're all on track to get Victoria Street back open to through traffic at the end of this year, and you'll start to see finished spaces in sections around the same time. The upgrade of Victoria Street from Federal Street to Albert Park/Kitchener Street will be complete by Spring 2025.

We'll be completing streetscape work in zones to minimise disruption to properties, businesses and residents. Visit our midtown neighbourhood page for more information.
Who is doing the construction?
Auckland Council appointed JFC Ltd to construct Te Hā Noa. JFC is an experienced civil construction company, with a strong track record in Auckland's city centre, having recently delivered streetscape upgrades on Te Wai Horotiu Queen Street, Federal Street (between Mayoral Drive and Wellesley Street) and Karangahape Road.
Partnering with mana whenua
We've been working in close partnership with mana whenua (Māori tribal groups who have historical and territorial rights over this area) through the establishment of the project and have worked with them on project outcomes.
The project is privileged to have been gifted a working title from the mana whenua project working group: Te Hā Noa. Te Hā Noa means to freely experience ones' surroundings, to breathe and acknowledge the sights and sounds whilst journeying within the city centre and the link between Waikōkota/Victoria Park and Rangipuke/Albert Park.
Te Hā – the breath in Māori terms is the essence of life itself, encompassing all the senses, and Noa – is to be free within the journey to experience.
Journeying from the middle ridges that form through ways of breathing, create a pulse and rhythm of 'Hā' (breath) within the city centre and to the lower part of the city between Karangahape and the Waitematā.  Through this movement the 'Hā' is the hub, or nucleus, that brings into existence pockets of vitality and breathing life into the city; coming alive.
We are grateful to be working with mana whenua representatives and Māori artists in the development of two significant public art pieces, and co-designing elements of street furniture such as drinking fountains and lighting.
To find out more about our partnership with Mana Whenua on this project please read our Cultural Design Framework.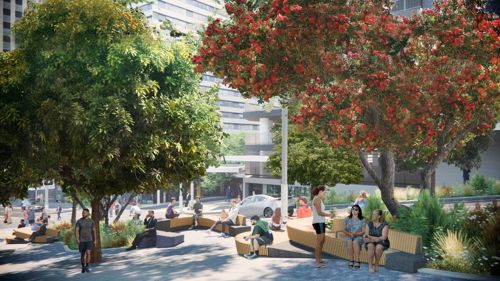 Te Hā Noa Victoria Street Project Design features:
The following features have been incorporated into the design for Te Hā Noa.  
Pedestrians
More space for people on foot with much wider footpaths on both sides of the street

Spaces with new street furniture and water fountains featuring Māori designs. People can use these spaces to rest, meet friends, eat and enjoy the surroundings.
Māori art
Two significant new artworks are planned for the street as part of the development. 
Planting
More than 20 large native trees will be planted, adding to the city's expanding urban ngāhere (forest), providing shade and shelter, cooling the city and soaking up carbon.

Tree pits have been designed to help manage stormwater flow and for passive irrigation

Garden beds will resemble the volcanic tiered shape of Maungawhau / Mount Eden, reflecting the volcanic history of Tāmaki Makaurau. They will be planted with native lush understory plants to provide urban greening.

More greenery provides a more pleasant backyard for those who call the city centre home.   
Cycling and active mode facilities  
A bi-directional separated cycleway on the southern side of the street, which is separated from vehicles and pedestrians by a continuous concrete separator, will provide a safer journey for people on bikes.

Cycling and scooter parking will be provided along the street and access will be provided onto and off the cycleway.
Parking and loading requirements   
Four loading zones will be provided, two zones on each side of Queen Street on the north side of the road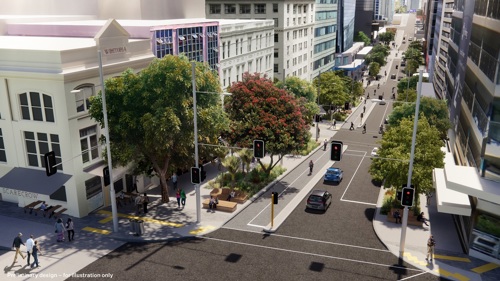 Disruptions
Streetscape construction is ongoing, but pedestrian access is maintained throughout. For more information, check out our latest construction updates here.
Dates
Expanding on the work already underway for the City Rail Link in midtown, work on Victoria Street between Elliott and Kitchener streets began in April 2023.
We're on track to get Victoria Street open to through traffic at the end of this 2023, and you'll start to see finished spaces in sections soon after. The full length of Victoria Street from Federal Street to Albert Park will be complete by late spring 2025.
Further Information
To find out more about the project, you can check out the project's Indicative Business Case and the Detailed Business Case links below. If you would like to view any of the appendices, please contact the project team at midtown@aucklandcouncil.govt.nz.
Indicative Business Case
Detailed Business Case
Delivered by
Auckland Council
Feedback
Public engagement on the preliminary design of this first section ran from 6 October to 9 November 2021 with 143 people and key stakeholders providing their feedback.
Project Map
Related Projects
Share this page