Wellesley Street Bus Improvements


What's happening now
Planned
Creating a welcoming and accessible Wellesley St

In Progress

Completed
Project Map
Share this page
About the project
Coming soon - significantly improved options for people taking the bus, walking, using micro-mobility and cycling on Wellesley Street, and you'll also see improvements to the streetscape and surrounding environment.

These planned improvements are for the full length of Wellesley Street between Victoria Park and Grafton Gully, and will make connecting to the Learning Quarter, Te Waihorotiu Station, the New Zealand International Convention Centre and Victoria Quarter much easier.
The section between Albert Street and Queen Street will be delivered first as stage 1, with stage 2 - Albert Street to Victoria Park - and stage 3 - Queen Street to the Learning Quarter - to follow in future years.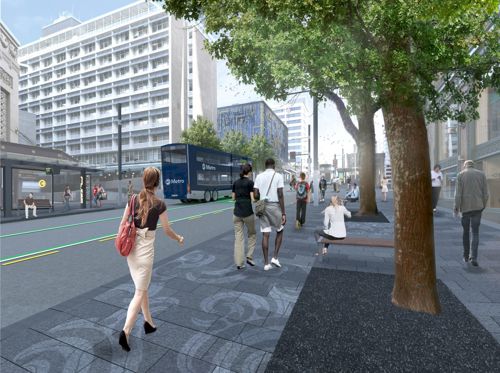 Why are we doing this work?
Tāmaki Makaurau is growing, and Wellesley Street is an important space in the ongoing development of our diverse city centre. We need it to be a great place for Aucklanders and visitors to get around and enjoy, including the thousands of people who will enter and exit Te Waihorotiu Station every day.
Auckland's City Centre Masterplan 2020 sees Wellesley Street as a key east-west bus route across the city centre. Auckland's city centre connectivity is being transformed by rapid transit, and the City Rail Link's Te Waihorotiu Station will concentrate access and activity into the Queen Street Valley. Along with Customs Street, Wellesley Street will become a transit street that prioritises public transport and pedestrians, while reducing general vehicle traffic.
Wellesley Street connects the Learning Quarter through city centre locations to the Victoria Quarter. To achieve this and alongside work on the City Rail Link and nearby Te Hā Noa on Victoria Street, we're progressing work on these improvements to public transport connections in Wellesley Street.
There will soon by thousands of people arriving and leaving Te Waihorotiu Station each day. Our work on Wellesley Street will make this midtown street a much more welcoming and functional space that will be able to accommodate the crowds of people walking, catching public transport, living in, working in and enjoying the area.
Investing in Wellesley Street project will mean more people can get to the Queen Street Valley, Aotea Arts Precinct and the Learning Quarter faster and more efficiently and will support economic growth and productivity by providing a faster, more reliable and predictable public connection.
When this project is complete, the benefits will be obvious
When our work on Wellesley Street is finished, you'll have wider footpaths and be able to cross Wellesley Street on an improved pedestrian crossing between Bledisloe Lane and Elliott Street.
When catching a bus, you'll enjoy much-improved bus infrastructure such as bus stops and improved road layout giving priority to buses, which means faster journey times. New paving, road surfacing, street furniture and lighting will make this street an inviting and accessible place to be. Along with improved bus travel times and reliability, the Wellesley Street Bus Improvements project will support simpler 'turn-up-and-go' bus services, meaning people won't need to wait long for a bus at all.
Streetscape upgrades will support the continuous improvement of our growing and dynamic city centre, and a proposed new separated cycleway in stage 3 from Queen Street to the Learning Quarter will complete the cycling connections between the Waihorotiu Path, the Learning Quarter and the Grafton gully.
What's involved
We recognise that the work to regenerate midtown can't be done without some disruption, and we're working to reduce the impact on you as much as we can. We're coordinating with other council group projects in the midtown area as well as utilities companies to futureproof the city for further growth in the years to come. This get-it-right-first-time coordination makes it more complex now but should prevent significant disruption in the future. For more information on construction and how you can get support if you're impacted, visit our midtown neighbourhood page.
How the work will be done
Work on the Wellesley Street bus corridor will be in stages.
Right now, we are working on the first stage of the project. This is the section between Albert Street and Queen Street. We're doing this first to coincide and support the opening of Te Waihorotiu Station, which is expected to be New Zealand's busiest train station.
Stage two will be the section of Wellesley Street between Victoria Street and Albert Park. This will include the Victoria Park bus turnaround and Beaumont Street layover work.
Stage three will be the section of Wellesley Street between Queen Street towards the Learning Quarter.
We'll provide an update when we know more about the timeframes for stages two and three.
Partnering with mana whenua
We are partnering with mana whenua (Māori tribal groups who have historical and territorial rights over this area) on this project. In particular, mana whenua are guiding us and developing artwork design features that will be incorporated in the improvements being delivered by this project.
Graham Tipene (Ngāti Whātua, Ngāti Kahu, Ngāti Hine, Ngāti Haua, Ngāti Manu) and Ted Ngatakai (Ngati Tamaoho) are undertaking design mahi for the project including artistic design work for bus shelters and the pavement.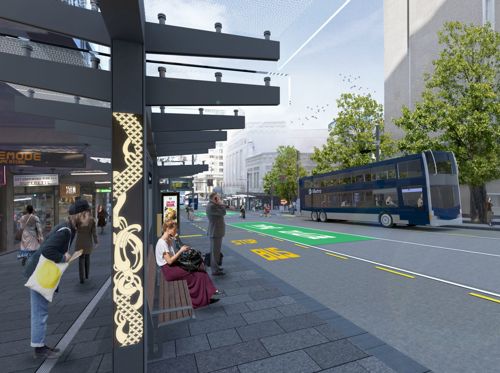 Wellesley Street Bus Improvement Project - Design Features
The following features are included in the design for Wellesley Street:
Buses
Providing high-quality bus stops, making it even easier to get on and off a bus and a nicer place to wait for a bus. They'll be positioned to give people walking down the street more room.

Continuous kerbside bus lanes are proposed along the entire length of Wellesley Street from Victoria Street to Princes Street (2.2 kms). This will enable AT to provide faster and more frequent services as per the City Centre Bus Plan, which will really improve your bus journey time and reliability.

A Victoria Park turnaround and Beaumont Street layover are proposed to support the bus operational requirements for Wellesley Street.
Walking, cycling and micro-mobility (scooters)
A more pleasant and safer experience for people walking along Wellesley Street with wider footpaths, fewer obstructions, smoother surfaces, and raised safety platforms for people to use when crossing side streets.

A new separated cycleway facility extending from Queen Street to Princes Street is proposed in stage 3. This will address a critical missing link in the city centre cycle network, especially for staff and students going to and from the Learning Quarter.

We're planning to improve the road layout to increase space for pedestrians and reduce street crossing distances.
Improvements to the surrounding environment
In stages 2 and 3, the street will be made more pleasant with street greening and planting.

We're also planning a complete road reconstruction along Wellesley Street. This will look great but even more importantly, will support our bus fleet as we move to more sustainable, but heavier, electric buses.
Dates
We expect to start construction of stage 1 between Albert Street and Queen Street in autumn 2024. We need to complete this work in time for the opening of Te Waihorotiu Station.
Further Information
You can read more about the changes to Wellesley Street here and on OurAuckland. Or check out Auckland Transport's project page to learn more about how other projects are supporting and enhancing the transformational City Rail Link.
Delivered by
Auckland Transport
Feedback
Public engagement on the design and integration of Stage 1 - the public space surrounding the station is was sought in October/November 2021.
Project Map
Related Projects
Share this page