Midtown wastewater upgrade

What's happening now
Planned

In Progress

Completed
Project Map
Share this page
Important Links
About the project
How we deal with wastewater is really important, and with more and more people living and working in our city centre, we need to consider wastewater and the network that manages it.
The council whānau is working to transform the heart of Auckland's city centre. This includes preparing the wastewater network to support the many more homes and businesses expected as midtown and our wider city centre grow.
While we get on with improving your city centre with major projects that will transform Tāmaki Makaurau such as the City Rail Link, we're also working behind the scenes on less obvious, but very important, projects like future-proofing wastewater infrastructure.
To improve wastewater capacity, we're installing a new wastewater pipeline (see below image) that will connect into the Ōrakei Main Sewer. This work will increase resilience of our wastewater network, helping to ensure we have enough capacity to support the growth we are expecting in coming years.
What's involved?
We're currently preparing to start construction of the first section in Queen Street in early 2024, followed by the Mayoral Drive section and the remaining parts of the pipeline. The new wastewater pipeline will be constructed in sections to help reduce impacts on residents and traffic, and to coordinate activity with other midtown projects.
Enabling works and construction activities
Utility diversions, using open trenching, will take place where Queen Street intersects with Mayoral Drive, Wellesley Street and Victoria St in the first half of 2024. 
This will allow underground services to be moved and make way for the new pipe and shafts.  Once this work is complete, shaft construction will begin by drilling into the ground (see map for locations).
These shafts are where the micro Tunnel Boring Machine (TBM) will enter and exit.  The TBM will start its journey at Mayoral Drive via Wellesley Street, then re-emerge at the Victoria Street shaft. 
We anticipate these construction works will take place from autumn 2024 to mid-2025.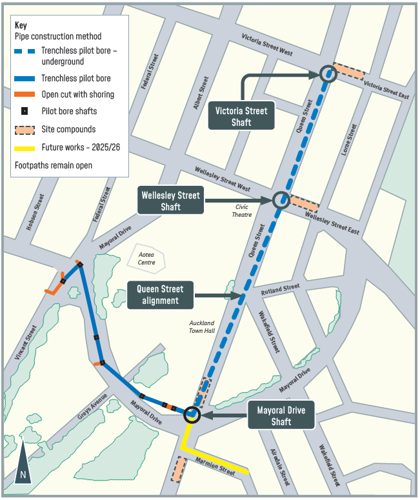 How will the work be done?
Site works will generally be undertaken during daylight hours, Monday-Friday. At times it may be necessary to carry out some work on a Saturday or at night. There are restrictions on these works, to ensure minimum disruption for residents.

Drilling, truck movements and pumps (if required) will create some noise. Mitigation, such as barriers and specified hours for noisy work, will be in place to reduce disruption.

Work compounds will be constructed near each of the shafts and will house equipment, machinery and infrastructure to support construction activities and our crews.

Traffic management will be in place to enable works and protect our crews.

A vehicle lane in each direction will be retained on Queen Street, with minimal impacts on loading.

We are focused on providing safe access for the local community, businesses, residents, and public transport during these works.
Looking ahead
We anticipate that Mayoral Drive construction works and the remaining portion of the pipeline will begin directly after Queen Street has been completed, and will use the same construction methodology where possible.  The construction programme is subject to necessary permissions and the weather.
We expect to complete work on the whole project by the end of 2026.
You can find more about this project by checking out the project page at Watercare.
Dates
2024 - 2026
Delivered by
Watercare
Project Map
Related Projects
Share this page