Wai Horotiu Queen Street Project
What's happening now
Planned

In Progress

Completed
Project Map
Share this page
About the project
The Wai Horotiu Queen Street Project will improve Queen Street for people by shaping a more vibrant, user friendly street environment that people want to spend time in. The project is part of a long-term transformation of Queen Street in line with the City Centre Master Plan's (CCMP)(External link) vision for the Wai Horotiu Queen Street Valley.
Over time, the CCMP sees Queen Street becoming a transit mall; an expansive level surface area with zero emissions, and a vibrant walking and shopping street where pedestrians and public transport have priority.
The Wai Horotiu Queen Street Project will deliver incremental changes to the street that move us towards this vision, by giving more priority to pedestrians and making network changes to remove unnecessary end-to-end through traffic.
The changes that will be delivered by this project we believe will be in place until the City Rail Link (CRL) is completed and pending a future design which might include light rail. We will be constructing in a way that doesn't dig up the road and allows us to change and remove materials and re-purpose them for future works.
What's involved
We have developed a single, unified design for Queen Street (from Customs Street to Mayoral Drive) to improve the street for people.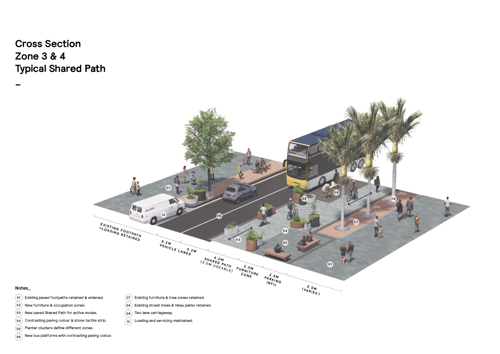 The main feature of the design is substantially wider footpaths, giving all people on foot and on wheels designated spaces to ensure they co-exist safely. The design includes more greenery and street furniture. It also importantly includes ways to reduce general traffic on Queen Street. To find out more about this new design, and have your say on aspects of the traffic network changes that have been proposed visit AK Have Your Say. 
Have Your Say
Tell us what you think about our proposals from Wednesday 22 September - Wednesday 20 October 2021.
Dates
September 2020 - September 2022
Further Information
To sign up to the newsletter or get in contact about the project email queenstpilot@aucklandcouncil.govt.nz 
https://akhaveyoursay.aucklandcouncil.govt.nz/waihorotiu-queen-street 
Delivered by
Auckland Council and Auckland Transport
Project Map
Share this page