Wai Horotiu Queen Street Project
What's happening now
Planned

In Progress

Completed
Project Map
Share this page
About the project
The City Centre Masterplan is our 20-year vision that sets the direction for transforming the heart of our city and waterfront, creating a thriving, liveable and connected place that is distinctly Tāmaki Makaurau.
The revitalisation of the Wai Horotiu Queen Street Valley into a more people focussed place, is part of that vision. To move towards this, we are shaping Queen Street into a vibrant, user friendly street environment that people want to spend time in.
Between 10 January and September 2022 the Wai Horotiu Queen Street project will be delivering improvements to Queen Street. This work has been informed by a wide range of community members, who we have been engaging with since the beginning of this project.
To find out more about this project visit https://akhaveyoursay.aucklandcouncil.govt.nz/waihorotiu-queen-street 
What's involved
The main features of the design are:
Substantially wider paths, giving people who are walking – and also slower bike and scooter riders - designated spaces to help ensure they co-exist safely. The extended footpath will mean that the traffic lanes will be reduced to one lane in each direction, except at the southern end where additional lanes are required to help the network function well. 

Planters filled with native plants creating a distinctly green feel along the street. Variation in the shape and materiality of planters will bring both consistency and textural variety to the streetscape.
Image by LandLAB: Artists impression of the multi-use path from a birds eye view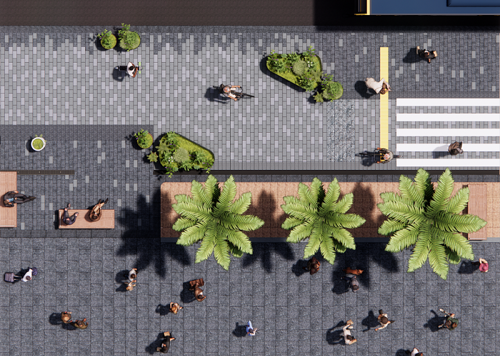 To find out more visit - https://akhaveyoursay.aucklandcouncil.govt.nz/waihorotiu-queen-street
Dates
September 2020 - September 2022
Further Information
To sign up to the newsletter or get in contact about the project email queenstproject@aucklandcouncil.govt.nz 
https://akhaveyoursay.aucklandcouncil.govt.nz/waihorotiu-queen-street 
Delivered by
Auckland Council and Auckland Transport
Project Map
Share this page